Hollywood sexual antics led to the murder of Natalie Wood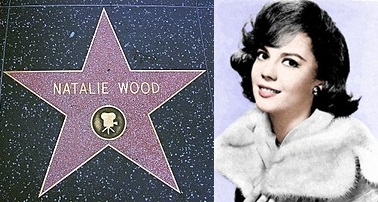 Source closely related to CFR member John Bolton – version of events:
On the evening of November 28, 1981, the night of the murder, while on a weekend boat trip to Santa Catalina Island, Robert Wagner and Natalie Wood reportedly were having a three-way with Christopher Walken on their yacht the Splendour.  Where at one point, Wagner and Walken kicked Natalie out of the ménage à trios.
Subsequently, Wagner and Walken continued engaging in homosexual sex per elite Hollywood protocols, source claims, simply solely to further agitate Natalie.
One of the uglier versions of the story of the night of her death was that she had gotten drunk and became enraged after she realized that Walken on whom she had a crush, was actually more interested in Wagner, or was being seduced by Wagner's legendary charm. The wife of the people who worked on the "Splendour" tried unsuccessfully to sell a book about that night but got greedy and asked for too much money. The only thing they really had was Natalie screaming at RJ (Wagner), "I won't go through this again."  I guess despite "Bob and Carroll, Ted and Alice," a ménage à trois was not what Natalie had in mind.
When Christopher Walken sparked to her on the set of Brainstorm—yet another lousy movie—it seemed like a chance for creative rebirth. He was from New York, handsome, serious about acting, "edgy." He was also younger. The woman who told friends that she had never cheated on Robert Wagner was smitten; Mr. Lambert believes there was an affair. – Who Raped Natalie Wood?
Violently incensed at the arrangement, Natalie, who could not swim, took off in the dinghy into shore after threatening to tell everyone at the restaurant that Wagner and Walken were GAY lovers – out on the yacht engaging in homosexual sex.
Thus, essentially ending Wagner's and Walken's acting careers per the highly negative public exposure the trustworthy Wood revelation would bring, particularly at the time.
Hours later, Wagner and Walken swam into shore to eat at the restaurant and find Natalie. As they entered the restaurant they saw Natalie talking to prominent guests seated at a table, gossiping at their arrival.
Still fighting with Natalie, Wagner and Walken sat at another table with famous actor/producer Burt Lancaster who previously had through Hollywood circles been involved with Natalie by means of interviewing her for a part in a film for his well known production company when she was only 15-years-old.
Eventually, Wagner and Walken informed Lancaster of their dilemma, whereby he too confided to being previously exposed by Natalie at one point in their relationship together which left him bitter.
Reportedly, this is when the three loosely hatched a plot to collectively murder Natalie wood – directed and led by Burt Lancaster's own hands.
After the plan was finalized, Wagner and Walken together with Natalie all three rode back to the yacht together in the dinghy following a night of heavy drinking. Once safely back on the Splendour, source claims Wagner and Walken confronted Natalie about her threat to reveal information about their homosexual affair to everyone at the restaurant.
Still a bit tipsy from drinks at the restaurant, and still angry over the ménage à trios incident, Natalie, like a scorned lover, reaffirmed her commitment to go public with their homosexual affair she previously threatened to reveal to guests at the restaurant while at dinner beforehand.
A heated argument then pursued over the future of Wagner and Walken's acting careers based on these (homosexual) revelations being made public. This is when Wagner and Walken reportedly kicked Natalie off the yacht per the plan hatched by Burt Lancaster earlier that night – if she didn't acquiesce.
In Wagner's 2008 memoir, Pieces of My Heart, he wrote that after a night of drinking, he got into an argument with Walken over Wood's career.
At one point, Wagner wrote, "I picked up a wine bottle, slammed it on the table and broke it into pieces."
Burt Lancaster knew Natalie couldn't swim as he saw her struggled with the dinghy on her way back into shore, it's reported, whereby, he was waiting with his own dinghy upon meeting her half way.
At this moment, Lancaster was able to knock Natalie out of the dinghy after ramming her from the side then using an oar to knock her into the water and keep her from climbing back into the dinghy.
Lancaster then fled, leaving her to drown – premeditatedly murdered – after knocking her into the water and taking the Valiant, reportedly to protect himself, Wagner and Walken in attempts to save their acting careers from Wood's future allegations.
As for what caused her to fall off the boat, Wagner wrote it was "all conjecture. Nobody knows. There are only two possibilities: either she was trying to get away from the argument, or she was trying to tie the dinghy. But the bottom line is that nobody knows exactly what happened."
From Wikipedia:
Wood drowned while on a weekend boat trip to Santa Catalina Island on board the Splendour. Many of the circumstances surrounding her drowning are unknown; it was never determined how she entered the water. She was with her husband Robert Wagner, Brainstorm co-star Christopher Walken, and the Splendour's captain, Dennis Davern, on the evening of November 28, 1981. Wood's body was recovered by authorities at 8:00 a.m. on November 29, one mile away from the boat, with a small inflatable dinghy, named the Valiant, found beached nearby. According to Wagner, when he went to bed, Wood was not there.[47]  The autopsy report revealed that Wood had bruises on her body and arms as well as an abrasion on her left cheek.
From People Crime:
The circumstances surrounding the death of Natalie Wood on Nov. 29, 1981, while sailing off of Catalina Island outside Los Angeles, have become the stuff of Hollywood legend and mystery.
Wood, 43, drowned while sailing with her husband, Robert Wagner, on their yacht, Splendour. Christopher Walken, Wood's then-costar in the movie Brainstorm, and the boat's captain, Dennis Davern, were also on board."
Source for this writer claims Robert Wagner is an elite Mason from very prominent Masonic family and that the television series Heart to Heart is a real life adaptation of his elite prowess and affluence.
Source further claims [1998] goy Robert Wagner will most likely be charged with murder for the homicidal actions of Jew Burt Lancaster in the murder of Natalie Wood – also half-Jewish – when the cause of death is reclassified. Christopher Walken, however, a full Jew, will not be charged for any involvement in the murder.
CBS News published a report quoting an investigator who described Robert Wagner as "more of a person of interest now" in then-wife Natalie Wood's drowning death.
Robert Wagner is officially a "person of interest" in the 1981 death of Natalie Wood and that her cause of death is now deemed "suspicious."
Facts however should prove out without shadow of doubt it was indeed Burt Lancaster who murdered Natalie Wood that night to protect his acting/producing career after he viciously raped her when she was interviewing for a part in a film for his well known production company at only 15-years-old – the usual spill – where both later told many witnesses.
I don't think Natalie thought anything sexual would happen, but it did.  He threw her on a bed and forced her to have sex, saying, "I never had a teenager before." When she got home that night, she informed Mud [her mother] of what happened and then went to the hospital for pain he inflicted.  And over the years she confided in certain people, including [her sister] Lana, Robert Blake and possibly Bette Davis. – 'Natasha' by Suzanne Finstad
Unquestionably, Lancaster became afraid of Natalie's prominent acting success, which over time, stood the real chance of becoming a bigger sensation than he had, and feared she would reveal to the public the night he brutally raped her when she was only 15.
Sadly, Natalie Wood was legendary for being a victim. The story of her rape is pretty well known. In a book about it, the author who apparently knew who the rapist was (emphasis on apparently) claimed it was a famous actor/producer who was famous for his "grin."
What I remember, the story was that this "famous actor-producer" was interviewing Natalie for a part in a film. Kirk Douglas didn't produce a film until 1957 – Paths of Glory – when Natalie was about 18. Burt Lancaster, on the other hand, was an actor-producer in the time frame of the rape. He was one of the first of the star producers of the 1950s. His well-known production company was Hecht-Hill-Lancaster.
I read "Natasha," by Susan Finstad, a few years ago, and for several pages I was convinced it was Kirk – but then the author dropped a reference to the rapist's "early pirate pictures," and Burt Lancaster, also not the nicest guy offscreen, came to mind.
I read the Finstad book and I've currently got the Lambert book.  Another clue in the Finstad book was that she later turned down a role in 1958 because it meant working with this [rapist] actor/producer. She had just married Wagner and told the studios that she didn't want to leave Wagner's side to go to England for a small part in the film 'The Devil's Disciple' staring Sir Laurence Olivier, Burt Lancaster, Kirk Douglas and Eva La Gallienne via his well-known production company Hecht-Hill-Lancaster.
Source for this writer contends that he is closely related movie star Jack Nicholson among other notable Hollywood actors privy to the (Natalie Wood) murder cover up protecting Burt Lancaster from implication at the time in 1981.
Tellingly, in 1969 after breaking her leg in an Austrian skiing accident, a hobbled Natalie Wood, in a bright floral print-dress, got a lift from 1969 copresenter Burt Lancaster onto the Oscar stage for an award presentation.
Testament to an in-your-face set up by Hollywood Jews, who knew full well of the previous rape Burt Lancaster perpetrated against a 15-year-old Natalie – who had no idea she would be paired with Lancaster until just prior to the ceremonial Oscar presentation.
[youtube https://www.youtube.com/watch?v=t7g-W2v4ZKg&w=560&h=315]
Likewise, the same protections will also be afforded Oscar winning actor Christopher Walken, who reportedly extends from the Jewish mafia and therefore is not one to be messed with, either on or off stage – which is a blur. And by proxy, will not face any significant scrutiny during the investigation, unlike Robert Wagner who will be the main focus of 'Hollywood Jews' in the years to come [1998].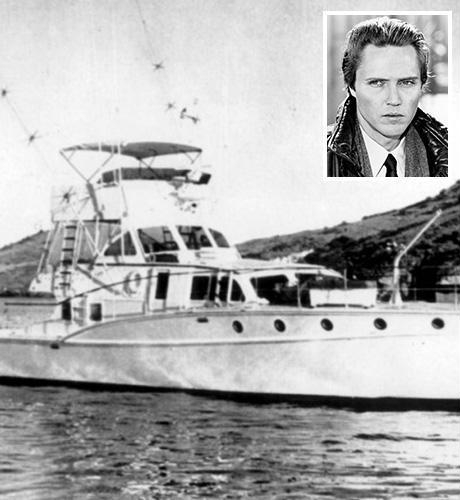 From Aol:
Christopher Walken — one of the last people to see Wood alive — didn't make a statement. But don't expect him to say much on the topic — ever.
He gave a curt quote to People magazine about Wood's death in 1986: "I don't know what happened," Walken said. "She slipped and fell in the water. I was in bed then. It was a terrible thing. Look, we're in a conversation I won't have. It's a fucking bore."
The magazine noted that Walken "snapped" his response and that his eyes were "icy."
However, Walken opened up more in a 1997 interview with Playboy, theorizing how Wood ended up in the water.
"Anybody there saw the logistics — of the boat, the night, where we were, that it was raining — and would know exactly what happened," Walken told the magazine (and recently referenced in the Hollywood Reporter). "You hear about things happening to people — they slip in the bathtub, fall down the stairs, step off the curb in London because they think that the cars come the other way — and they die. You feel you want to die making an effort at something; you don't want to die in some unnecessary way."
"What happened that night only she knows, because she was alone," Walken said. "She had gone to bed before us, and her room was at the back. A dinghy was bouncing against the side of the boat, and I think she went out to move it. There was a ski ramp that was partially in the water. It was slippery — I had walked on it myself. She had told me she couldn't swim; in fact, they had to cut a swimming scene from [Brainstorm]. She was probably half asleep, and she was wearing a coat."
Davern, the third man aboard the Splendour, has insisted for years that Wagner and Walken were arguing before Wood's disappearance because Wagner was jealous.
Wood's sister, Lana, wrote in her own book, titled Natalie, in 1984, that Wood did have a great affection for Walken: "I don't know if Natalie's [love affair] with Chris was imaginary or real, though my strong suspicion is that it was all in her mind and that perhaps she was only wishing it to be so."
Walken suspected that Wood also might have hit her head before falling into the water. An in-depth investigation in Vanity Fair from 2000 also attributed this quote to the actor.
"The people who are convinced that there was something more to it than what came out in the investigation will never be satisfied with the truth. Because the truth is, there is nothing more to it," Walken said. "It was an accident."
Yet, people in another yacht clear across the harbor heard the cries of Natalie screaming from the water the night she drowned, but Walken, at point blank range, never heard a sound?

Witness to Natalie Wood Murder Comes Forward – Daily Mail Online:
In a sworn statement submitted to the LA Sheriff's department, Wayne said: 'My cabin window was open. A woman's voice, crying for help, awakened John and awakened me, "Help me, someone please help me, I'm drowning", we heard repeatedly.'
Wayne said John turned on their yacht's beam light but they couldn't see anything. Wayne claims she called the harbour patrol officer 'but no one answered' and the local sheriff's office, who told her a helicopter would be sent. But it did not come.
She also claims to have heard a man's slurred voice from the direction of the Splendour saying: 'Oh, hold on, we're coming to get you.'
'Not long after that the cries for help subsided,' she recalled.
It was only when Wayne gave an account of her story to a U.S. TV crew for a programme scheduled to air next week, that she was asked to give a statement to police.
Wayne's account matches that of Dennis Davern who says he was 'coerced' by Wagner's lawyer into backing Wagner's story of an accidental drowning after the death.
TMZ: 'He (Dennis) said that everyone was quite drunk and that a fight broke out and that Natalie was in the water and he and RJ (Wagner) did nothing to pull her out.