Source claims Maxwell was murdered on his yacht after years of stealing pension funds from his media company the Mirror Group.
According to John Bolton's nephew, Greg T Dixon, a Masonic High school friend and informant deeply connected with Freemasonry, Robert Maxwell was warned multiple times by fellow elite to stop stealing the pension funds (£460m/$600m) from his employees (Maxwell Communications).
Maxwell ignored these multiple warnings, however, and continued the practice of 'misappropriation of funds' while spending most his time on his yacht Lady Ghislaine floating in the Atlantic among the Canary Islands.
Dixon said he would have food and supplies flown in to him as he anchored in remote, isolated areas among the islands, multiple times per month.
It was because of his remote lifestyle that they were able to so simply murder him on his yacht, after sending in a 'kill team' to off him and make it look like a natural drowning accident from falling overboard.
The main reason he was murdered, according to Dixon, was that he had become a "loose cannon" leading to fears he would be exposed by his workers for stealing their pensions. Ultimately, an investigation could also lead to Israel, blackmail and Jeffery Epstein compromising highly influential people, including themselves.
From Wikipedia:
Ian Robert Maxwell was a British media proprietor, former member of Parliament (MP), suspected spy, and fraudster. Originally from Czechoslovakia, Maxwell rose from poverty to build an extensive publishing empire. After his death, huge discrepancies in his companies' finances were revealed, including his fraudulent misappropriation of the Mirror Group pension fund.
Early in his life, Maxwell, then an Orthodox Jew, escaped from Nazi occupation, joined the Czechoslovak Army in exile during World War II and was decorated after active service in the British Army. In subsequent years he worked in publishing, building up Pergamon Press to a major publishing house. After six years as a Labour MP during the 1960s, Maxwell again put all his energy into business, successively buying the British Printing Corporation, Mirror Group Newspapers and Macmillan Publishers, among other publishing companies.
Maxwell had a flamboyant lifestyle, living in Headington Hill Hall in Oxford, from which he often flew in his helicopter, or his luxury yacht, the Lady Ghislaine. He was litigious and often embroiled in controversy. In 1989, Maxwell had to sell successful businesses, including Pergamon Press, to cover some of his debts. In 1991, his body was discovered floating in the Atlantic Ocean, having apparently fallen overboard from his yacht. He was buried in Jerusalem.
Maxwell's death triggered the collapse of his publishing empire as banks called in loans. His sons briefly attempted to keep the business together, but failed as the news emerged that the elder Maxwell had stolen hundreds of millions of pounds from his own companies' pension funds. The Maxwell companies applied for bankruptcy protection in 1992.
The Foreign Office suspected that Maxwell was a secret agent of a foreign government, possibly a double agent or a triple agent, and "a thoroughly bad character and almost certainly financed by Russia". He had known links to the British Secret Intelligence Service (MI6), to the Soviet KGB, and to the Israeli intelligence service Mossad. Six serving and former heads of Israeli intelligence services attended Maxwell's funeral in Israel, while Israeli Prime Minister Yitzhak Shamir eulogised him and stated: "He has done more for Israel than can today be told."
Shortly before Maxwell's death, a former employee of Israel's Military Intelligence Directorate, Ari Ben-Menashe, approached a number of news organisations in Britain and the US with the allegation that Maxwell and the Daily Mirror's foreign editor, Nicholas Davies, were both long-time agents for Mossad. Ben-Menashe also claimed that, in 1986, Maxwell informed the Israeli Embassy in London that Mordechai Vanunu revealed information about Israel's nuclear capability to The Sunday Times, then to the Daily Mirror. Vanunu was subsequently kidnapped by Mossad and smuggled to Israel, convicted of treason and imprisoned for eighteen years.
Ben-Menashe's story was ignored at first, but eventually journalist Seymour Hersh of The New Yorker repeated some of the allegations during a press conference in London held to publicise The Samson Option, Hersh's book about Israel's nuclear weapons. On 21 October 1991, Labour MP George Galloway and Conservative MP Rupert Allason (also known as espionage author Nigel West) agreed to raise the issue in the House of Commons under parliamentary privilege protection, which in turn allowed British newspapers to report events without fear of libel suits. Maxwell called the claims "ludicrous, a total invention" and sacked Davies. A year later, in Galloway's libel settlement against Mirror Group Newspapers (in which he received "substantial" damages), Galloway's counsel announced that the MP accepted that the group's staff had not been involved in Vanunu's abduction. Galloway referred to Maxwell as "one of the worst criminals of the century".
Jews Killed JFK over Samson Option
On 4 November 1991, Maxwell had an argumentative phone call with his son Kevin over a meeting scheduled with the Bank of England on Maxwell's default on £50,000,000 in loans. Maxwell missed the meeting, instead travelling to his yacht, the Lady Ghislaine, in the Canary Islands, Spain.
On 5 November, Maxwell was last in contact with the crew of Lady Ghislaine at 4:25 a.m. local time, but was found to be missing later in the morning. It has been speculated that Maxwell was urinating into the ocean nude at the time, as he often did. He was presumed to have fallen overboard from the vessel, which was cruising off the Canary Islands, southwest of Spain. Maxwell's naked body was recovered from the Atlantic Ocean and taken to Las Palmas. Besides a "graze to his left shoulder", there were no noticeable wounds on Maxwell's body. The official ruling at an inquest held in December 1991 was death by a heart attack combined with accidental drowning, although three pathologists had been unable to agree on the cause of his death at the inquest; he had been found to have been suffering from serious heart and lung conditions. Murder was ruled out by the judge and, in effect, so was suicide. His son discounted the possibility of suicide, saying, "I think it is highly unlikely that he would have taken his own life, it wasn't in his makeup or his mentality."
Maxwell was afforded a lavish funeral in Israel, attended by Israeli Prime Minister Yitzhak Shamir, Israeli President Chaim Herzog, at least six serving and former heads of Israeli intelligence and many dignitaries and politicians, both government and opposition, and was buried on the Mount of Olives in Jerusalem. Herzog delivered the eulogy and the Kaddish was recited by his fellow Holocaust survivor, friend and longtime attorney Samuel Pisar.
British Prime Minister John Major said Maxwell had given him "valuable insights" into the situation in the Soviet Union during the attempted coup of 1991. He was a "great character", Major added. Neil Kinnock, then Labour Party leader, spoke of him as a man with "a zest for life" who "attracted controversy, envy and loyalty in great measure throughout his rumbustious life."
A production crew conducting research for Maxwell, a 2007 biographical film by the BBC, uncovered tapes stored in a suitcase owned by his former head of security, John Pole. Later in his life, Maxwell had become increasingly paranoid about his own employees and had the offices of those he suspected of disloyalty bugged so he could hear their conversations. After Maxwell's death, the tapes remained in Pole's suitcase and were discovered by the researchers only in 2007.
In November 1994, Maxwell's widow Elisabeth published her memoirs, A Mind of My Own: My Life with Robert Maxwell, which sheds light on her life with him, when the publishing magnate was ranked as one of the richest people in the world. Having earned her degree from Oxford University in 1981, Elisabeth devoted much of her later life to continued research on the Holocaust and worked as a proponent of Jewish-Christian dialogue. She died on 7 August 2013.
In July 2020, Maxwell's youngest child, his daughter Ghislaine Maxwell, was arrested and charged in New Hampshire, US, with six federal crimes, involving minors' trade, travel and seducing to engage in criminal sexual activity, and conspiracy to entice children to engage in illegal sex acts, allegedly linked to a sex-trafficking ring with Jeffrey Epstein (who had already died in jail the previous year). She was convicted on 29 December 2021.
From Captain Bob and the spooks
"Bob Maxwell knew he was in irreversible trouble in his business affairs. Everywhere he looked, his great empire seemed to be collapsing around him – except for the still-profitable Mirror Group Newspapers. His American acquisitions were a crushing debt burden. He had rifled the entire pension funds of Maxwell Communications to try to ease that debt burden, and he mortgaged virtually all his wealth on a huge gamble with fate. There was no one left to rescue Bob Maxwell – except one possible saviour. He still had friends in very high political places. If they failed him then commercial disaster would swiftly turn to criminal investigations. So what happened to those political friends in high places?
"Maxwell built up a tremendous catalogue of politically-influential contacts with wide commercial implications. For over 20 years he had established a network of commercial and political interests in the communist countries of Eastern Europe, which was a linchpin of his Pergamon Press Company. His biographies – or to be accurate, bland hagiographies – of virtually all the Communist leaders were a lucrative earner.
"Yet this extraordinary quilt of commercial contacts with the East European communist world concealed something else – Maxwell was also involved in passing intelligence to the west about the communist rulers. In fact, he was almost certainly being used as – and using himself as – a two-way intelligence conduit. This arrangement included passing intelligence to the Israeli secret forces with whom he became increasingly involved towards the end of his life. Maxwell was highly regarded by the Israeli government. He was certainly used by them to help in the process of Jewish emigration from the Soviet Union and, in return, he was seen by the Soviet government as an important contact in dealings with Israel. This involved commercial interests as well that linked Maxwell with secret defence deals between Israel and the countries of Eastern Europe. Maxwell had important investments in the Israeli defence industry, especially in the trading park at Haifa.
"My own research focuses on these aspects of Maxwell's life. The possibility that Maxwell could have ended up in the Old Bailey [court] on charges of criminal fraud raised critical questions for a number of countries involved in the Maxwell triangle of international dealings. Bob Maxwell in the dock of the Old Bailey was not a prospect any of these groups, which included the US, Britain, Soviet Russia, Israel and France, would have appreciated. The intelligence services in all of these countries were aware of the dangers. My own theory is that any one of them – or even a combination of several – could have been responsible for Maxwell's death. If Maxwell was keeping one final hope of a last-minute financial reprieve and help from some of his old friends in high places then it could have come from any one of these sources.
"But it did not. Instead came death. Of course, it is unlikely that the truth will ever emerge. But of one thing I can remain quite certain: Bob Maxwell was an unlikely suicidal figure. Indeed, he believed he could walk on water.
According to Victor Ostrovsky, a former Mossad case officer: Mossad was financing many of its operations in Europe from money stolen from Maxwell's newspaper pension fund. They got their hands on the funds almost as soon as Maxwell made the purchase of the Mirror Newspaper Group with money lent to him by Mossad.
From Newswars

"The intelligence network behind Jeffrey Epstein and Ghislaine Maxwell's child-sex-trafficking blackmail operation can sleep easy tonight with Maxwell in prison and Epstein allegedly six feet under.
"Judge Alison Nathan… made sure from the very beginning that the network behind Epstein and Maxwell would be protected and this was going to be a narrow trial focusing only on allegations of sex abuse.
"The fact Ghislaine Maxwell is the daughter of "Israel's Superspy" Robert Maxwell and former Israeli spy Ari Ben-Menashe said in late 2019 that Epstein and Ghislaine Maxwell were "Israeli spies" who blackmailed politicians through "honey trap" operations with underage girls was also not addressed, by design.
"The fact that Epstein and Maxwell's operation was funded with hundreds of millions of dollars from pro-Israel billionaires Lex Wexner and Leon Black was not addressed, by design.
Revealed: Jeffrey Epstein Received At Least $200 Million From Billionaires Les Wexner And Leon Black
"No mention was made of Epstein's former business partner Steven Hoffenberg revealing Epstein "admitted" to him that he was "a top-level agent for the Israeli Mossad."
"The fact Epstein entered into a "partnership worth millions" in 2015 with Ehud Barak, the former Prime Minister of Israel and the head of Israeli Military Intelligence, and Barak regularly visited Epstein's apartment building in New York where underage girls say they were trafficked was also never brought up, by design.
"There was also no mention of the fact that Alex Acosta, the former US attorney in Miami who cut Epstein's sweetheart plea deal, said he did so because: "I was told Epstein 'belonged to intelligence' and to leave it alone."
The New York Times reported in November that President Joe Biden nominated Judge Alison Nathan for a promotion to a "prestigious federal appeals court post" at the request of Senator Chuck Schumer.
"Mr. Schumer, in a statement on Tuesday, said Judge Nathan's 'experience, legal brilliance, love of the rule of law and perspective would be invaluable in ensuring the federal judiciary fulfills its obligation to ensure equal justice for all,'" the Times reported.
Senator Schumer's involvement with pedophilia: Sen Chuck Schumer's Tranny Wife
"In the documentary ["Chasing Ghislaine"], former arms dealer Ari Ben-Menashe claims that the elder Maxwell brought Epstein to Israel in the '80s to blackmail people for the Jewish state.
"Epstein's M.O., according to Ben-Menashe, was taping targets having sex with young women. "Underage girls was his forte," says Ben-Menashe.
"I think Robert wanted him as a son-in-law," says Syrian banker Amer Pacha in the documentary, adding that by the '80s, Epstein had cultivated a reputation for money laundering.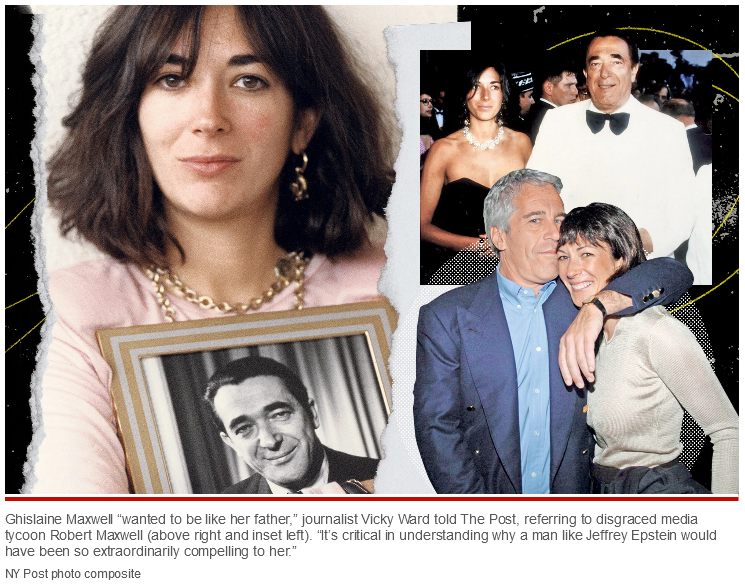 'Chasing Ghislaine' doc reveals Maxwell's daddy issues with Jeffrey Epstein
United States v. Ghislaine Maxwell: A Case Study in Judicial Corruption (by Susan Bradford)
Mega Group, Maxwells and Mossad: The Spy Story at the Heart of the Jeffrey Epstein Scandal
Jew Jeffrey Epstein's Aryan Girls
---